Hot Air Balloon Experience in the Las Vegas Valley
---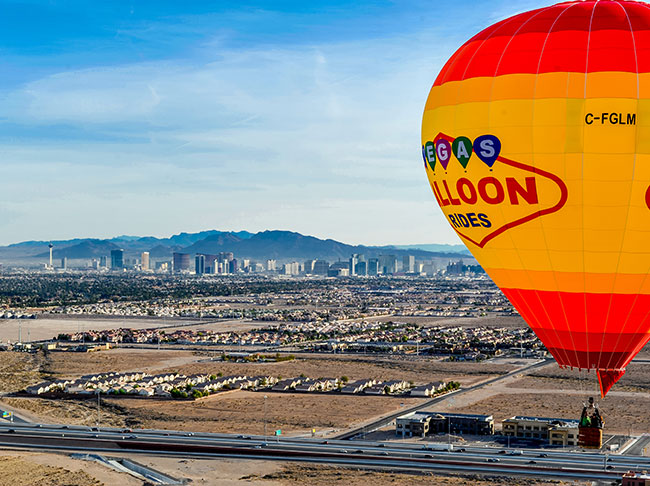 Fly High
Your hot air balloon ride will be an experience that you will treasure for a lifetime! Your package consists of a spectacular hot air balloon ride which can last from 45 minutes to 1.5 hours in the air; followed by a traditional champagne toast. Spectacular views of the Las Vegas Valley and Las Vegas Strip hotels. You should plan to be with us for up to 4 hours in total to allow for the check-in, travel to a launch location, safety briefing, set-up and pack-up of the balloon, as well as, the return drive to our original meeting location.
Please feel free to bring your camera, video camera, or binoculars, as well as a case to protect them during landing.
More Good Information
Flight Status
The pilot will determine the evening before the flight if the flight is a go. The determination to fly is usually made at around 5:00 PM the evening before the flight. The factors considered in making this decision are based on numerous weather and wind resources. It is imperative that you phone the check-in number prior to arriving at the meeting location, or being picked up from your hotel. We don't want you to miss your flight or waste your time if the conditions are not suitable for ballooning.
Meeting Location
For Passengers that choose to rendezvous at the meeting location will need to arrive at approximately 7:00 AM. The meeting location is Starbucks near the corner of West Russell Road and Ft. Apache in the southwest part of the valley. Driving directions can be provided when passenger check in the night before.
Cancellation
Ballooning is extremely weather dependent. We require less than 8 knots of wind, in addition to no impending storms. Your safety is our main concern. Vegas Balloon Rides reserves the right to cancel a flight due to weather conditions or other safety reason such as equipment malfunction, pilot illness or injury that could affect the safety of the flight. A full refund will be issued.
Once you have scheduled a flight, we require at least 3 business days notice for any date changes. If you do not cancel with the proper notice you may forfeit your voucher or you may be charged a reactivation fee. This decision is at the discretion of management and is final. If you do not show up for your scheduled flight date, you voucher will be forfeited.
Waiver
A signed copy of our standard "Waiver of Liability Exclusion Agreement" must be provided to your pilot before flying. Although hot air ballooning is a safe activity, accidents, incidents, and injury can occur. We want to make sure that you understand that there is always a chance of potential injury, damage to personal property or perhaps death in an extreme situation. Hot Air Ballooning and our safety record are exceptional with hundreds of thousands of passengers taking flight safely around the world every year.
Passenger Limitations
Passengers must be in good physical condition due to the possibility of a rough landing. All passengers must be able to climb in and out of the basket, stand for the entire flight and walk out of a field if necessary. We cannot fly any passenger who has had recent surgery, injuries, hip, back, or knee problems, health concerns, physical limitations, is/or may be pregnant or has severe auditory restrictions. Please note: Children must be a minimum of 10 years of age and accompanied by an adult. Your safety is our main concern. If you are concerned with health or safety issues, please consult with your physician or call our office to discuss the individual situation.
Clothing Suggestions
Wear layers. It can be cool in the early morning and can quickly heat up as the sun rises higher. Wear comfortable and sensible footwear. Some fields are rough and appropriate footwear will make your flight more comfortable. No open toed shoes, heels or sandals please. As you will be climbing in and out of the basket, we suggest you wear comfortable, casual clothing. It is recommended that you wear a hat, as the residual heat from the burners can make those who are sensitive to heat mildly uncomfortable.
Other
Family and friends are always welcome to come out and watch your ballooning adventure. It is sometimes, as much fun watching someone you know "Walk the Winds". Please note – it is not a requirement to have someone follow you during your flight. Our ground crew takes care of the transportation of passengers from our landing location. They will return all passengers to the original meeting location.
Gratuity
While gratuities are not required, they are certainly appreciated by the Pilot and/or Crew. If you enjoyed the experience and were well take care of, please feel comfortable offering a kind word or a gratuity for a job well done!
Tour Brief
Balloon Flight
Champagne toast
Times
Tour Times: Varies
Tour Length: Approximately 4 hours (45 minutes to 1.5 hours in the air)
Price
$275.00 per person all inclusive