Horse rides in Spring Mountain Range from Las Vegas
---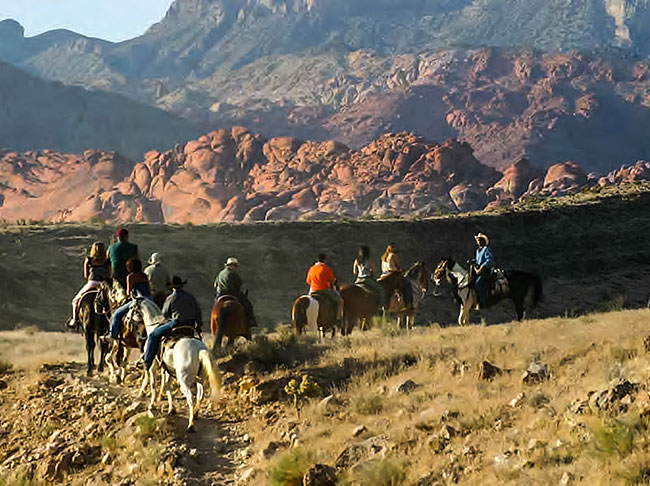 WOW (Way Out West) Horseback Trail Ride through the Red Rock Canyon and Spring Mountain with transportation from Las Vegas
Up to the Challenge
By mid-afternoon, you'll return to camp. This five-hour ride does require a lot of stamina, but if you are up for the challenge, you'll have endless memories of this beautiful area that's hard to leave behind.
We'll ride into a nearby canyon, where the trail becomes steeper and the canyon closes in, forming a passage between vertical sandstone walls that extends up to the top of the ridge high above. Although the terrain becomes more challenging, the stunning views are worth the effort. You'll see the epitome of desert landscapes: huge boulders at the bottom of towering cliffs, barrel cactus, cholla, creosote bushes, yucca, and Joshua trees. You should keep an eye out for desert wildlife along the way, particularly wild burros.
Exciting Adventure
This is a ride that will really make you say "Wow!"—and not just because it's in the name. This premier excursion (and the longest horseback ride that we offer) has even recently been described as "like being in a dream."
The WOW Ride begins at our camp in Red Rock Canyon in the morning. You'll have a few minutes to get acquainted with our trained, gentle horse before the adventure begins.
The WOW in our tour's name could stand for "Way Out West," and the best of the West is exactly what you'll see. We will stop several times so you can take photos of this amazing territory. We also make a stop for lunch (consisting of roast beef, ham or turkey sandwiches, drinks and other snacks) on the top of a ridge where you can see Las Vegas , Lake Mead , and sometimes even the West Rim of the Grand Canyon in the distance. After lunch, we'll continue on the trail along the cliff edge. This leads to the remains of an old mining road. From here, you can see the pine-covered Spring Mountains behind the red and yellow sandstone of the Red Rock escarpment.
Tour Brief
Courtesy premium hotel pick-up and drop off. If you are not picked up within five minutes of your pick-up time, do not wait. Please CALL US IMMEDIATELY.
5 hours horseback riding in Red Rock Canyon
Lunch
Times
Tour Times: 7:00 AM
Tour Length: Approximately 8 hours
Price
$350.00 per person
(Children must be 6 years old.)