Grand Canyon West Rim Bus Tour
---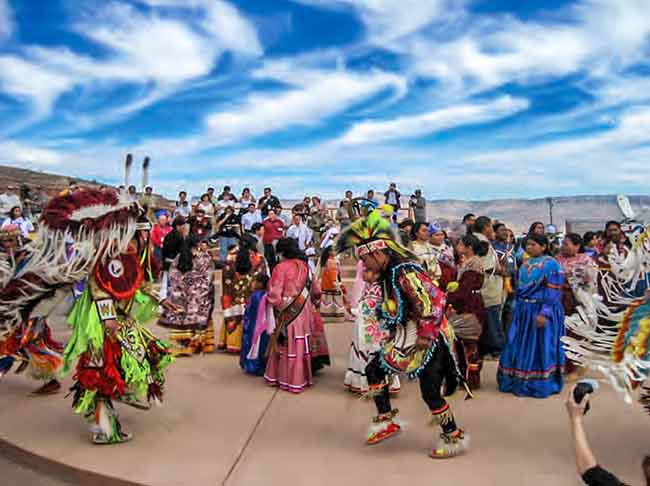 Spend 4 hours with us at the Canyon not just 3 hours like the other company.
Only $105 per person!
Prices include all taxes, tour fees, entrance fees, booking fees and permits.
This deluxe tour provides transportation in new, full-size modern touring buses. We make exclusive stops not offered by other companies. You have choices and options not available anywhere else. Shop and compare.
We want to help make your experience visiting Grand Canyon West a straight-shooting adventure that you will cherish and tell your friends about. We provide a FREE morning snack, lunch, and a full four hours for you to enjoy yourself without feeling like you are being rushed from one point to another. Our tour is the only bus tour that takes you all the way to the rim. (Other companies drop you off nine miles from the rim and waste your time waiting in line for a shuttle bus.) Once at the West Rim you can explore the area at your own pace and see points of interest, including Eagle Point, Guano Point, and the Colorado River. You can also walk the rim for other stunning views. You will have time for attractions such as the Indian Village and Hualapai Ranch.
NOTE: We highly recommend that you upgrade to the "World Famous" Skywalk at the Hualapai Reservation
All of these offer special value with unique sights and access not available anywhere else.
The benefit of traveling with us in our comfortable, modern deluxe eco-friendly motor coaches is that we leave nothing to chance when it comes to your safety and comfort. All vehicles are equipped with restrooms, large viewing windows, air conditioning, reclining seats, adjustable arm rests, foot rests, and video monitors. Please feel confident that we have your safety and comfort in mind, so we use the best coaches for this tour. Your comfort, safety and satisfaction are always number one with us.
Our professional drivers are the best in Las Vegas. They will entertain and inform you as you travel to Grand Canyon West. They are true professionals who love what they do. From the time we pick you up at your hotel to the time of your return, the drivers are there to assist you.
Grand Canyon West Rim Bus Tour from Las Vegas
At the Grand Canyon West Rim
Your drive to Grand Canyon West Rim will take you over the Hoover Dam into the state of Arizona for a photo stop, then over the Mike O'Callaghan–Pat Tillman Memorial Hoover Dam Bypass Bridge. Travel the remote area known as Black Canyon, which has played a significant role in the development of the American Southwest, from the ancient Anasazi Indians and the steamboat landings to its present day use as part of the Lake Mead National Recreation Area. Pass through the Mojave Desert and the 900-year-old Joshua Tree Forest, one of the largest of its kind.
Arriving at Grand Canyon West, you will be greeted by the Indians of the Hualapai Nation, who will welcome you to their homeland.
There are three areas at Grand Canyon West: Eagle Point, Guano Point, and the Hualapai Ranch
Eagle Point contains the most notable attraction, the Grand Canyon Skywalk, a glass bridge that suspends 4,000 feet above the Grand Canyon floor.
There is a walking tour through authentic Native American dwellings and amphitheater with live Native American performances from multiples tribes continuously throughout the day. Handmade Native American jewelry and crafts are available for purchase.
Weather at the Grand Canyon is very unpredictable. We recommend that you dress for outdoor activities, wearing walking shoes. We also recommend a hat, sunscreen, lip balm and sunglasses.
Hop-On-Hop-Off Shuttle
This shuttle service will take you to the other points. At Guano Point, you can take the "High Point Hike," which offers breathtaking views of the Grand Canyon and Colorado River. The last stop is the Hualapai Ranch. This offers you a chance to enter the Wild West and enjoy western hospitality, cowboy entertainment, wagon rides, and more. Learn how to rope, quick draw, and tomahawk toss in the authentic "cowboy way."
Our tour allows 4 hours to explore the Grand Canyon West Rim while other tour companies offer only 3 hours.
Grand Canyon West Rim Bus Tour from Las Vegas
Tour Brief
Courtesy premium hotel pick-up and drop off. If you are not picked up within five minutes of your pick-up time, do not wait. Please CALL US IMMEDIATELY.
Free complimentary morning snack
Free bottled water
Deluxe motorcoaches
Professional Driver
Travel across the newly built Mike O'Callaghan–Pat Tillman Memorial Hoover Dam Bypass Bridge
Hoover Dam photo stop on the Arizona side is approximately 20 minutes
Lunch
A full 4 hours to enjoy this unique destination. See all they have to offer—Eagle Point, the Skywalk, Guano Point, Indian Village, Hualapai Ranch, Cowboy Town and more. You choose how to spend your time.
A Wild West adventure you will not forget
Photo opportunities galore!
Times
Tour Times: 7:30 AM
Tour Length: Approximately 11.5 hours
Upgrade
Skywalk
Groups
For small groups or parties 8 to 16 people charter our VIP Grand Canyon West Rim Tour for your Private Tour.
Special Request
Service dogs may travel with the correct and current paperwork.
Small oxygen tanks are permitted.
Price
$105 SPECIAL
Prices include all taxes and booking fees. A fuel surcharge may apply.