Biking Through Bootleg Canyon from Las Vegas
---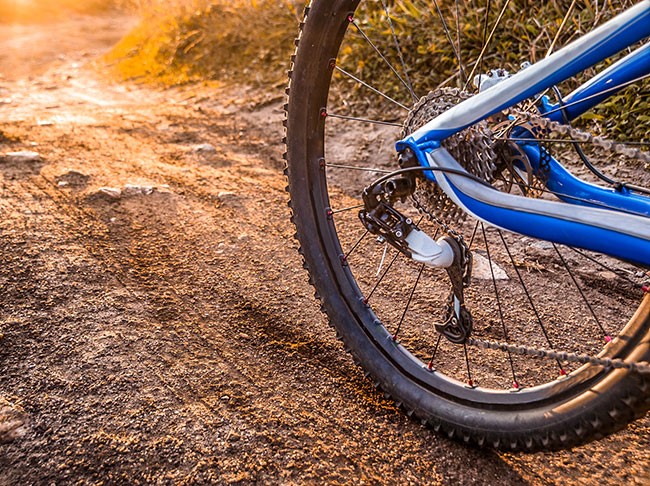 Your Safety is No. 1
Since your safety is our number one concern, it is important to us that you are extremely well cared for, therefore all of the guides are First Aid and CPR certified. They will always be equipped with a First Aid kit, and a communication device in case of an emergency. All of the equipment is high-end, top-quality gear. Helmets and protective pads are mandatory on all trips.
Although the local trail master keeps the area in tip-top shape, the surrounding desert is extremely rugged and caution should always be exercised when participating in any outdoor sport. You will be supplied with proper protection, however, there is no guarantee you will not have an "off-the-bike" experience. You are the only person who can judge whether or not this trip is for you.
Western Biking Adventure
You can enjoy a half day of riding in Bootleg Canyon known as the most popular, newest spot for biking in the West. The 35 miles of trails are fashioned in ski-slope style by connecting with another to allow an infinite number of loops and runs. With the blue water of Lake Mead looming in the background, you can wind your way through exciting cross-country trails, keeping an eye open for the occasional Desert Bighorn Sheep. (Who, incidentally, have the right-of-way on trails!) Other wildlife such as the Desert Tortoise, Turkey Vulture, Red-Tailed Hawk, the Kit Fox, and the Coyote also inhabit the area and are often spotted by the observant eye.
After you are completely outfitted with a full suspension bike, helmet, and everything else needed for a safe trip, a shuttle will drop you and your group at the trail head to begin the adventure and excitement. After some essential biking instruction from your guide and a quick safety check, you can start cranking those pedals. Your guide is not only a leader on the trails, but an information guru about local history, plant and animal life, and desert geology. Bottled water and snacks are provided while on a mandatory rest stops for refueling, hydrating, and admiring the awesome views. In the distance, you will recognize Las Vegas, Red Rock Canyon, Boulder City, Lake Mead, and El dorado Canyon.
Tour Brief
Courtesy premium hotel pick-up and drop off. If you are not picked up within five minutes of your pick-up time, do not wait. Please CALL US IMMEDIATELY.
Guided Tour
Bottled Water
Snacks
Bike
Safety Gear
Tour departs from Las Vegas
Times
Tour Times: 7:00 AM and 1:00 PM
Tour Length: Approximately 6 hours
Attire
Pants or shorts with closed toed shoes and a coat or jacket in the cooler months. (Please no sandals or open toed shoes.)
Price
$168.99 per person