Sedona Day Tour from Phoenix/Scottsdale, Arizona
---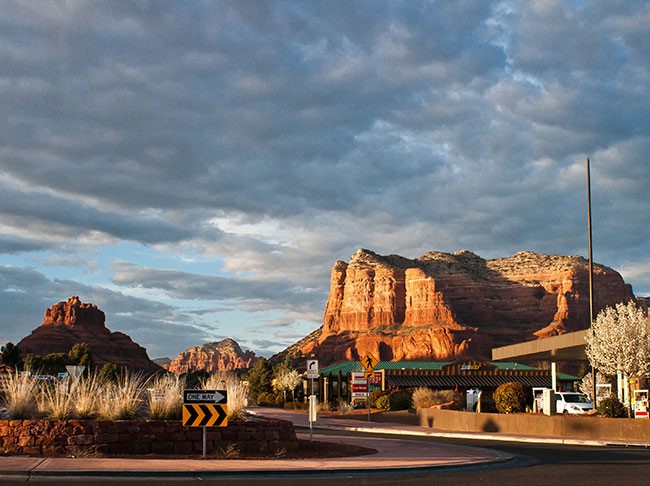 Sedona, Arizona Day Tour from Phoenix
Sedona Tour
Once in Sedona, your options range from cultural and spiritual to adventurous and active. Our tours spend approximately 3.5 hours in Sedona. You can explore on foot, visit galleries and shops, or get a psychic reading. Helicopter or jeep tours are also available. The Sedona area is arranged in a way that allows flexibility in planning your day. Guests will not be limited by the choices of the others on board. We will show you our favorite photo spots and explore the main scenic regions of this sculpted red rock playground. Your guide will help you choose from a list of scenic options include The Chapel Of The Holy Cross, Bell Rock Vortex, Oak Creek Canyon and Airport Mesa, to name a few.
Sedona's Red Rock Canyon
Let us take you on a trek through Sedona's Red Rock Country and Arizona's most photographed town by offering you all there is to see and do in Sedona and give you the "locals only" treatment.
To be true to the area's rich history, today's tour gives a chance to explore Native American history dating back over 1000 years. We feature one of two Indian ruins from an age past. Once a busy trade route for the ancestral people of the area, there are 2 options for exploring 1000 year old Sinagua Indian ruins, at either Tuzigoot or Montezuma's Castle National Monuments.
Tour Brief
Red Rock Country
Native American ruins
Montezuma's Castle National Monuments
3 hours in Sedona
Lunch and bottled water
Park entry fees and all taxes
Times
Tour Times: Approximately 7:00 – 7:30 AM (Your exact pick-up time and location will be provided a the time of booking or via email.)
Tour Departs From: Phoenix/Scottsdale/Tempe/West Mesa/Flagstaff
Tour Length: Approximately 11 hours (Return to Phoenix is 5:00 – 6:00 PM)
Price
Our price $130.00 per person
Prices include all taxes and booking fees. A fuel surcharge may apply.