Grand Canyon Railway Coach Class Day Trip to the Grand Canyon
---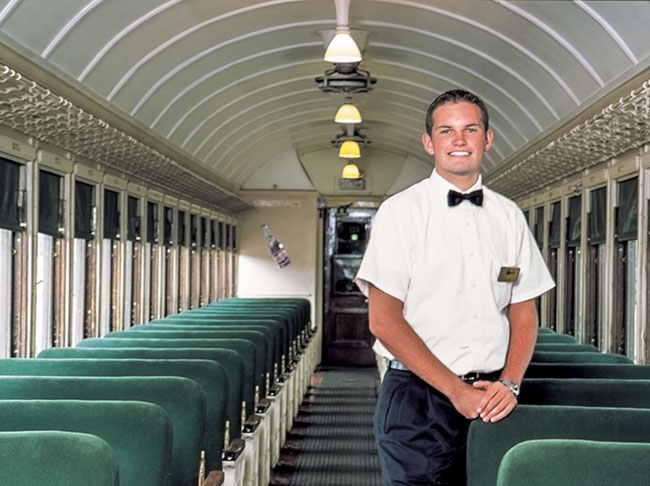 Visit the Grand Canyon Railroad at the Williams, Arizona Railway Depot
Arriving at the Grand Canyon
The train arrives at the historic 1910 Grand Canyon Depot. It is among the three remaining log depots still in operation in the United States. Buildings like the El Tovar Hotel, Hopi House and Bright Angel Lodge salute arriving guests as they pull into the station and disembark from the train. Set unobtrusively among the landscape, Grand Canyon Village gives no hint of the majesty that lay beyond. Guests have over three hours to explore the most distinctive chasm in the world.
Freedom Tour at the Canyon
Once you arrive at the Grand Canyon you may participate in a narrated motor coach rim tour to the most scenic overlooks of the canyon to enhance your visit. Guests are escorted to vistas like Mojave Point, Pima Point, The Abyss and Hermits Rest. The Freedom Tour lasts approximately 1.5 hours and works around the train schedule to maximize your time at the canyon. A Buffet lunch is available at Maswik Lodge for an additional charge.
Coach Class to the Grand Canyon South Rim
Step aboard Grand Canyon Railway for a trip to the Majestic Grand Canyon you'll never forget. Travel in a classic streamliner-era coach that gets you to the canyon and back with style and grace. Enjoy comfortable bench-style seating in the air-conditioned 1950's-era passenger cars as the train makes it's way across the beautiful Northern Arizona countryside. The train offers kaleidoscopic views of the San Francisco Peaks and rolls through valleys adorned in wild flowers, dense pine forest, high desert plains and small canyons.
The excitement begins at the historic 1908 Williams Depot. Before the train departs you can enjoy a wild west shootout featuring the Cataract Creek Gang in an outdoor theater, visit the free railroad museum or browse through the gift shops.
On hearing the train whistle pierce the fresh morning air, passengers board the vintage streamliner to begin their journey. Uniformed coach attendants provide you with white-gloved courtesy and service. Aboard the train, enjoy the tunes of strolling musicians who conduct sing-a-longs, an old west train robbery and the antics of western characters as they recreate train travel as it was in the early 1900's.
Train Tour Schedule
9:00 a.m. Wild West Train Show
9:30 a.m. Depart from the Williams Depot
11:45 a.m. Arrive at the Grand Canyon Depot
If you need round trip transportation from Las Vegas to participate in this tour the bus fare, $179.00 per person, is in addition to the train fares above.
Tour Brief
This tour originates in Williams, Arizona
Round Trip to the Grand Canyon
Train ride in 1950 streamliner coach class
Grand Canyon National Park Entrance Fee
Times
Tour Times: 9:00 AM
Tour Length: Approximately 9 hours
Upgrade
Freedom Tour at the Canyon with or without lunch. Tours are subject to availability.
Price
Adults
$41.00 One Way
$82.00 Round Trip

Children
$25.50 One Way
$51.00 Round Trip