Valley of Fire VIP Tour
---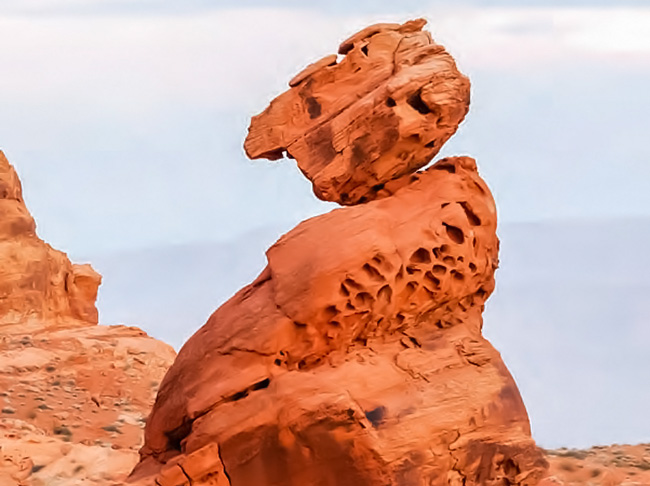 Travel in a luxury van with individual seats to Valley of Fire for a tour of vibrant, majestic rock formations and Indian Petroglyphs
Stops along the way
The Atlatl Rock was named because many petroglyphs on the rock depicts these weapons. The ancient Indians used an atlatl to launch their spears. It had a short cord wound around the spear so when thrown into the air the spear would rotate. This area has outstanding petroglyphs.
This arch rock resembles the look of an elephant, therefore is named Elephant Rock.
The wind and water weathering elements have erroded the rock creating many folds and breaks. The erosion has, also, worn away top layers fully exposing sharp angled rocks that created Fire Canyon.
In the 1890's a Southern Paiute Indian renegade, called Little Mouse, hid after being accused of killing two prospectors. The natural water basin became known as Little Mouse's water hence the name Mouse Tank.
Rainbow Vista viewpoint reveals a vast area of multi-colored rocks stretching for miles. This panoramic view is a great place to take pictures.
Luxury VIP Tour to Valley of Fire
Dedicated in 1935, Valley of Fire is Nevada's oldest and largest state park. The valley derives its name from the vibrant red sandstone formations and the stark beauty of the Mojave Desert. Ancient trees and early man are represented throughout the park as evidenced by petrified wood and 3,000 year old Indian petroglyphs.
Travel in comfort as our VIP
Luxurious transportation and excellent service is standard fare.
Tour Brief
Exclusive hotel pick-up and drop off in your luxury VIP chariot. If you are not picked up within five minutes of your pick-up time, do not wait. Please CALL US IMMEDIATELY.
Morning snack and beverage
Travel in style in a smooth, comfortable Mercedes Benz
Refreshments on board
Personal VIP travel pack
See Elephant Rock, Mouse Tank, Rainbow Vista, Atlati Rock and Fire Canyon
Gourmet Deli Style Lunch
Times
Tour Times: 8:00 AM Monday through Friday
Tour Length: Approximately 6 hours
Time at Valley of Fire: Approximately 2.5 hours
Groups
Charter the entire VIP Mercedes for your private group VIP tour with the minimum of eight passengers. Call today to reserve your special group VIP tour.
Special Request
Service dogs may travel with the correct and current paperwork.
Small oxygen tanks are permitted.
Price
$124.99 per person
The price you see is the price you pay. There are no suprises with the price.